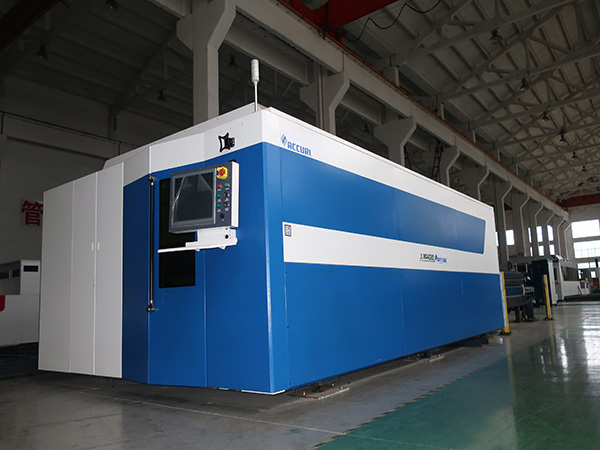 accurl high photo-electric conversion efficiency can be up to about 30%. So the machine runs with very low power consumption.
Assisted with laser beams of good quality, the focus spot is small, and the cutting seam is very fine.
The working efficiency is high, and the quality is good by using double-clad fiber (DCF).
The light spot enjoys good quality. And the machine distorts just slightly. Besides, work pieces have even cutting seams.
The completely enclosed light path is totally composed of fiber laser and fiber laser units.
Fiber laser and fiber laser units are combined together based on cable splicing technology. And the whole light path is enclosed in fiber laser waveguide.
No need of mirrors in laser generator. No working gas in laser generator. And no need to maintain laser generator when the machine runs.
Fiber optic transmission requires no need of reflector mirrors. The machine saves maintenance costs greatly.
The efficiency is very stable and reliable by adopting the diode pump laser module.
It's quite convenient to operate and maintain the machine. No need to adjust the light path with fiber-optic transmission system.
With the very long working life, key units can work one hundred thousand hours without maintenance.
Paràmetres tècnics
---
 Equipment name
       Màquina de tall làser de fibra
 Model
 JBT-500W
 JBT-800W
 JBT-1000W
 JBT-2000W
JBT-3000W
JBT-6000W
 Potència làser
      500W
800W
 1000W
2000W
 3000W
6000W

 Max. cutting thickness

 SS ≤3mm
SS ≤3.5mm
 SS ≤5mm
 SS ≤8mm
SS ≤10mm
SS ≤16mm
 CS ≤6mm
CS ≤8mm
 CS ≤10mm
CS ≤16mm
CS ≤20mm
CS ≤25mm
 Màx. velocitat en moviment
     80m / min
   120m / min
   120m / min
 Precisió de posicionament
 ± 0,03mm / m
 Repeat Positioning
 ±0.02mm/m
Working table
3000x1500mm, 4000x1500mm, 4000x2000mm,

6000x1500mm, 6000x2000mm, 8000x2000mm, 10000x2000mm, etc

Sistema de control
CNC - International professional metal laser cutting machine dedicated software
Cap de tall làser
Original imported from Sweden
Supported format
PLT, DXF, BMP, AI, DST, DWG, etc.
Cooling Type
Refredament per aigua
Machine Debugging
---
1. Adopts moving gantry structure, imported high-precision linear guide, smooth transmission, high-precision.
2. With the moving beam as a whole welded structure, machine bed is tough after annealing, and then the vibration aging treatment, can completely eliminate the stress of welding and machining, good rigidity, high accuracy can be maintained for a long time does not deform.
3. X, Y, Z axes are imported from Japan servo motor, high-precision, high- speed, high-torque, high inertia, stable performance and durable. Ensure the machine's high speed and acceleration.
4. Using many laser cutting control special function modules, powerful, human machine interface, easy to operate based on the Windows operating system, fiber laser cutting machine CNC system integrated.
5. Independent research and development of personalized nesting software, CNC cutting machine to achieve " full-time cutting, efficient cutting and high nesting rate cut " core technology is the fundamental guarantee of effective material savings, improve cutting efficiency.
6. Cutting fiber laser head selection Switzerland Raytools produced special cutting head, and capacitive sensing, induction of high precision and responsive, the most stable and reliable performance.
7. Imported high precision electronic control proportional valve, precise control of the cutting auxiliary gas pressure, in order to achieve the best cutting results.
Aplicació a la màquina
---
CNC Fiber Laser Cutting Machine 500w 700w 1000w 2000w 3000w Mild / Stainless / Carbon Steel - Extensive Use:
Kitchen appliance, Mechanical equipment, Electrical equipment, Lighting hardware, Advertising signs, Auto parts, Display equipment, All kinds of metal products, Sheet metal processing etc industry.
Detalls ràpids
---
Aplicació: Tall làser
Estat: Nou
Tipus de làser: làser de fibra
Applicable Material: Acrylic, Crytal, MDF, Metal
Gruix de tall: 0-30 mm
Cutting Area: 10000x2000mm
Cutting Speed: 80-120m/min
CNC o No: Sí
Mode de refrigeració: refrigeració per aigua
Programari de control: Cypcut
Format gràfic compatible: AI, BMP, DST, DWG, DXF, DXP, LAS, PLT
Certificació: CE, ISO, SGS
Servei postvenda subministrat: enginyers disponibles per a la maquinària de servei a l'estranger
Product name: CNC Fiber Laser Cutting Machine Mild / Stainless / Carbon Steel
Keyword: Fiber laser cutting machine
Electrical System: ABB (SWEDEN)
Gas proportional valve: SMC(Japan)
Laser Source: IPG
Function: Metal Cutting Machiens
Tipus: Tall de làser de fibra
Repostion Accuracy: 0.02mm
Position Accuracy: 0.03mm
Max.Moving Speed: 120m/min
---
màquina de tall làser acrílic
,
productes de màquines de tall làser
,
petita màquina de tall làser acrílic