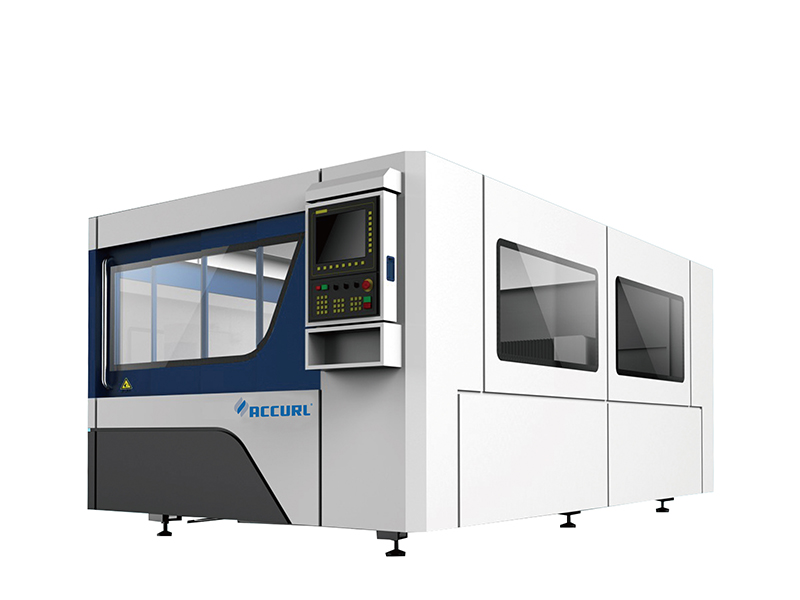 This xapa màquina de tall làser, is ACCURL laser hardware industry according to the needs of research and development of thin metal fiber laser cutting machine, the use ofgantry double drive structure,high precision rack rail drive,WEIHONG CNC laser cutting system,high precision collision Laser cutting head,reinforced welding bed, the whole stableandreliable, flexible operation and simple, high-speed drillingto achieve cutting function, professional cutting all kinds of sheet metal, precision accessories, hardware tools, gifts and other metal materials.
Detalls ràpids
---
Aplicació: Tall làser
Estat: Nou
Tipus de làser: làser de fibra
Applicable Material: Other
Gruix de tall: Materials
Àrea de tall: 1500 * 3000mm
Velocitat de tall: 0-40000mm / min
CNC o No: Sí
Mode de refrigeració: refrigeració per aigua
Control Software: WEIHONG
Graphic Format Supported: Other
Certification: Other
Servei postvenda subministrat: enginyers disponibles per a la maquinària de servei a l'estranger
Nom del producte: Màquina de tall làser de fibra
Laser: RAYCUS
Funció: Tall de materials metàl·lics
Type: Fiber Lasr Cutting
Name: CNC fiber laser cutting machine
Àrea de treball: 1500mmX3000mm / 2000mmX4000mm / 2000mmmX6000mm
Paraula clau: Màquina de tall làser de fibra
Laser power: 750w
RAYCUS 750W CUTTING PARAMETERS
---
Material
Gruix (mm)
Cutting Speed(m/min)
Gas
Acer inoxidable
1
240
N
2
80
2
3
25
4
18
5
10
Acer carboni
1
150
O
2
80
2
3
70
4
30
5
25
6
18
8
15
RAYCUS LASER
---
a, For the best wavelength and best beam quality for metal processing, fiber lasers are the least expensive to cut.
b, Maintenance-free, long life, is 10 times longer life of CO2glass.
c,Laser with high stability, greatly reducing the requirements of laser quality control in operation.
d,Ultra-low cost, laser power consumption is only 0.5 to 1.5 degrees per hour ; blowing air can cut all kinds of sheet metal.
e, High-performance, imported factory-packaged fiber laser, stable performance, service life of up to 100,000 hours.
f,High speed, high efficiency, cutting sheets up to tens of met
ers per minute speed.
g, Good quality for cutting edge, small deformation, the appearance of a smooth, perfect.
MAX LASER
---
1.Lower power consumption
2.Lower cooling requirements
3.Higher spot quality
4.Lower consumption
5.High stability
6.High efficiency and low cost
High - precision digital anti - collision laser cutting head
---
The cutting head is equipped with extremely sensitive non-contact capacitive sensing device, can achieve a very stable Z-axis automatic tracking function, eliminating the uneven sheet on the cutting quality of the impact, thereby improving the product's pass rate.
The laser cutting machine is equipped with a focus lens to meet the needs of customers cutting the plate.
Refrigerador
---
Using professional chiller by refrigerant control circuit, high precision temperaturecontroller control and display water temperature aromatically.
Running high efficiency low noise, The product internal water tank and pipe is made of stainless steel plate production, the external sheet metal parts are all made of electrostatic sprayingCoating, which can effectively prevent rust; Use clean water deionized water so as to improve the efficiency of laser equipment and life.
Applicable industries and materials
---
Advertising industry: stainless steel cutting, galvanized sheet cutting, cold plate cutting, carbon steel cutting, all kinds of advertising sheet metal, logo producing.
Industrial industry: aluminum, copper, titanium, metal hollow, handicrafts, stainless steel, cold plate, carbon steel, all kinds of metal sheet cutting.
millor màquina de tall làser cnc
,
cost de la màquina de tall làser cnc
,
màquina de tall digital làser
,
màquina de tall làser cnc industrial